About Invader Pest Management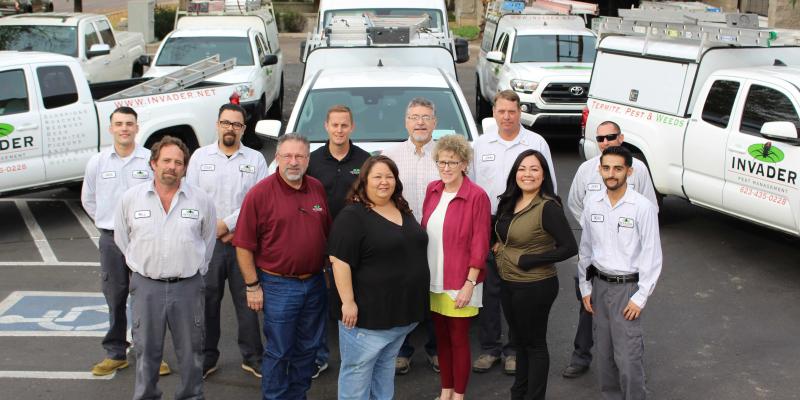 At Invader Pest Management, our pest control service is a recognized leader in IPM, Integrated Pest Management. Since 1994, we have been a family-owned and operated pest, termite and weed control company doing business in the beautiful state of Arizona, the state that we are very proud to call home. From the beginning, we have had a long-held tradition of going above and beyond. Our goal is to exceed our customers' expectations every time, and we are proud to say that we have been able to accomplish that goal every single day for the past 29 years.
Pest Control Experts You Can Trust
Whenever you choose us for your pest, termite and weed control needs, you can be sure to receive the same level of attention and expert services that have made Invader one of the most trusted names in the pest control services industry. The staff at Invader Pest Management are rigorously screened and continually trained to ensure that we have the best qualified and educated professionals in the pest control industry. Our staff is your direct connection to us and we value our reputation. That means we trust every member of the Invader Pest family to play a key role in helping you to overcome what BUGS you, not to be part of it!
You Care About The Environment, We Do Too
From pest control and beyond, our Integrated Pest Management experts can efficiently inspect, identify, monitor, and implement solutions to address pest problems. You can depend on our professional staff to do the job right, the first time. You don't have to worry about cockroaches, mice, termites, and other unwanted critters – we'll see to it that your property is free from pests!
Strong Commitment to Excellence
When it comes to inspection, sanitation, cultural controls, biological controls, and mechanical controls, we are one of the best in the business. Our Integrated Pest Management solutions not only involve judicious use of pesticides, but we also make sure that we communicate effectively with our clients and impart information for better pest management. Additionally, we are proud to offer *same day service because we know our customers shouldn't have to wait around for relief. What makes us a premier pest exterminator in Phoenix-Area and neighboring communities, is our dedication to providing superior pest control services so that our clients can enjoy a safe and pest-free environment.
From the entire Invader Pest Management family, thank you for doing business with us.
* We offer same day service if you call before 12pm noon, M-F. Don't let pests ruin your day.