Residential Mosquito ControlThe Best Professional Mosquito Control in the Phoenix Area
Mosquitoes are a common pest control issue in Arizona, but they are much more than just annoying insects – mosquitoes can be dangerous and carry deadly diseases. Don't spend another minute of your outdoor time slathering on insect repellant just to be swatting at mosquitoes a few minutes later, choose Invader!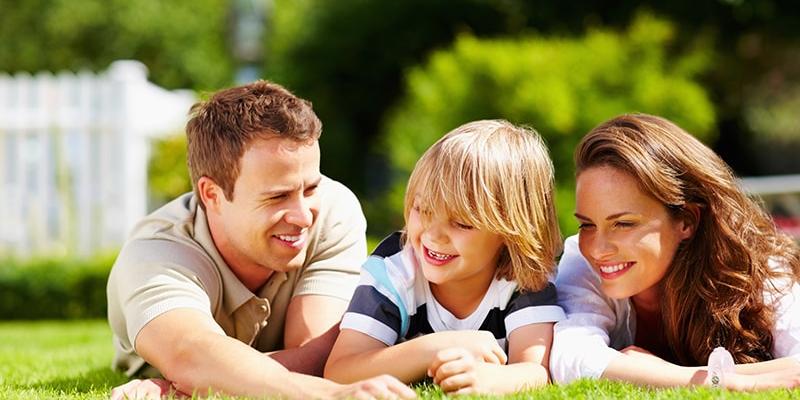 Here at Invader Pest Management, we want you to be able to enjoy your summer without worry. Our InvaderProof Mosquito Control Service reduces the population of mosquitoes in your yard so you can spend time in your yard, worry-free. Our professional mosquito control includes:
an inspection to search for mosquito habitats and breeding areas in your yard.
Customized mosquito control solutions based on the findings from our inspection.
Same-day service if you call before noon.
Dramatic reduction of mosquitoes in every life stage – including eggs.
Eco-friendly and family-friendly applications for your peace of mind.
Protection from mosquito-borne illnesses.
A 100% satisfaction guarantee.
And more!
Protect Your Family With the In2Care Mosquito TrapGet Rid of Mosquitoes In Your Yard
Effectively controls the mosquito that transmits:

West Nile Virus
Zika and other similar viruses

Green innovation – reduced use of chemicals
Does not target plants or beneficial insects
Gives 24 hours/day protection
Pet-friendly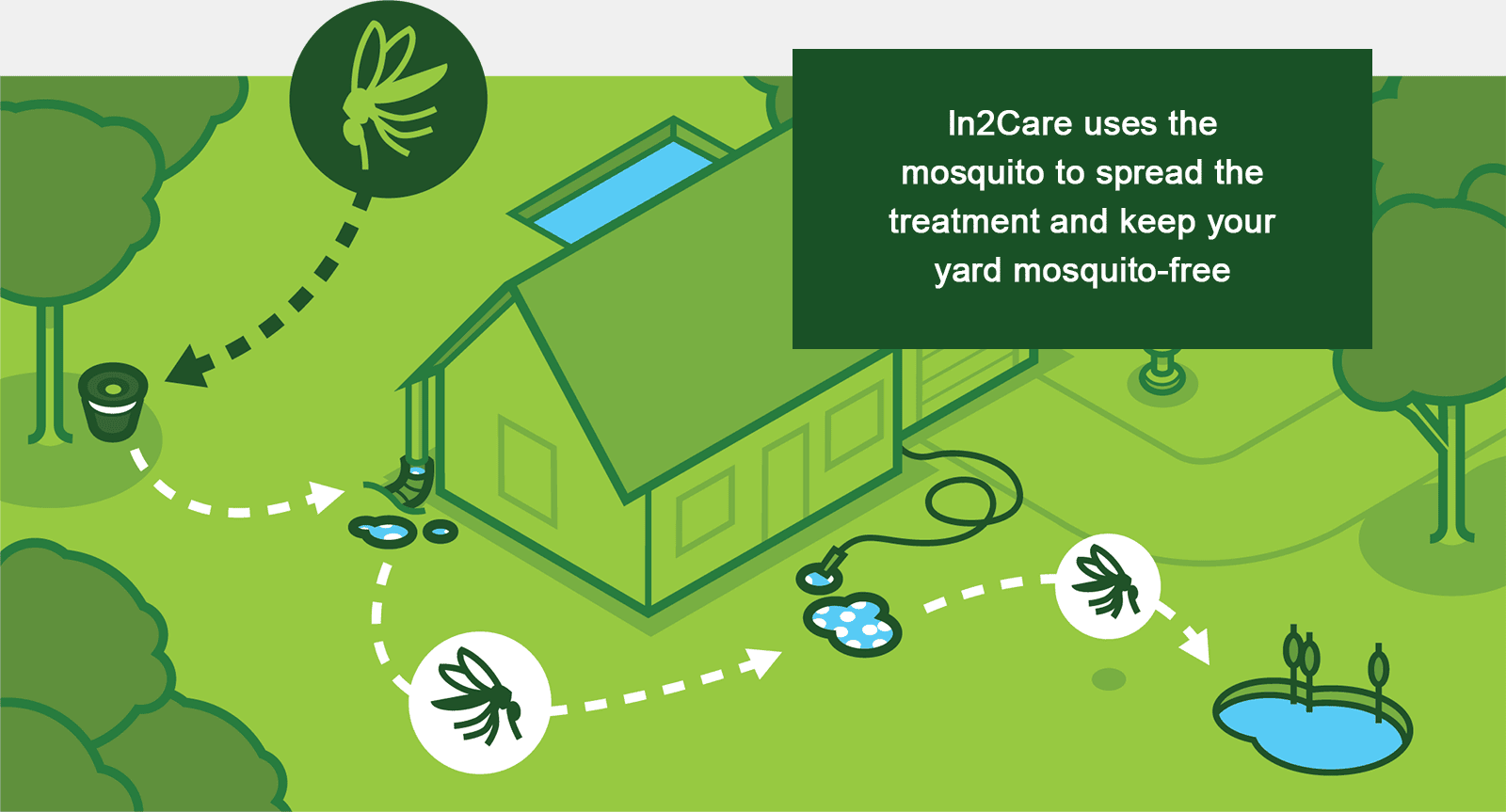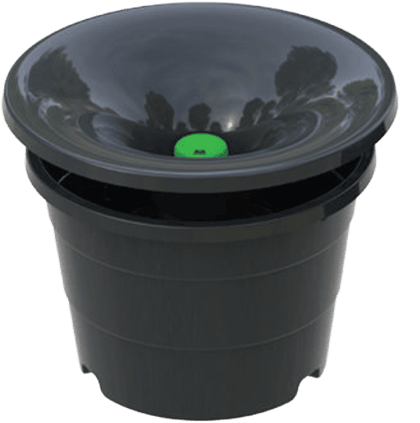 How In2Care Works
The In2Care Mosquito Trap lures and contaminates Aedes mosquitoes with a special slow-killing larvicide and let them spread this to other breeding sites (which are often hard to find and treat) so that mosquito larvae are not only killed inside the trap but also in its vicinity. This is combined with a biological adulticide that kills the contaminated mosquito after a few days to prevent her from transmitting any viruses like Dengue or Zika virus. In this way, the product kills the mosquitoes and their offspring, so that populations are reduced and disease transmission risks are lowered significantly.
Get Started with An Inspection
Every mosquito control situation is unique, and before we even begin to treat your yard, we conduct an inspection so we can get to know your yard and look for mosquito problem areas. Our experienced and highly-trained mosquito control technicians will come to your home and look around your outdoor space for signs of mosquito activity and breeding grounds. Then, we will craft a comprehensive mosquito control solution just for you. Based on the findings from our inspection, our mosquito control strategies may include:
Exclusion – manipulating breeding sites to disrupt the breeding cycle.
Source elimination/reduction strategies – identifying anything on your property that is capable of holding water, like plastic, cans, containers, pots, tires, etc.
Larviciding – a specialized application that specifically targets mosquito larvae, killing them on the spot.
Adulticiding – a chemical spray that targets adult mosquitoes in the places that they nest.
Keep Your Family Safe from Mosquito-Borne Illnesses
Mosquitoes are much more than just annoying pests – they are known carriers of many dangerous illnesses that can make your family and pets sick! There are over 150 different species of mosquitoes in the US, with over 40 of those residing in Arizona. Mosquitoes attack not only people, but also farm animals, like horses, chickens, ducks, and other birds, as well as domestic animals, like dogs. When you choose mosquito control services for your home, you're choosing to implement the first line of defense to keep your loved ones safe from illnesses like:
Malaria
Dengue Fever
Chikungunya
Western Equine Encephalitis in Horses
Heartworm Disease in Canines
And more
Don't delay, protect your family today!
Customized Mosquito Extermination For Long-Term Relief
At Invader Pest Management, we believe that cookie-cutter mosquito control solutions just don't work, which is why we are happy to offer customized solutions that are catered to your specific situation. We take the time to craft a mosquito control plan that will work best for you and your yard and will help you enjoy your yard this summer with fewer mosquito bites. When you partner with us for an InvaderProof Mosquito Control Service, you can have peace of mind knowing your loved ones are safe while you enjoy your outdoor time this summer.
Frequently Asked Questions About Mosquito Control
I've noticed other pests in addition to mosquitoes. Can you take care of all my outdoor pest problems?
We understand that Arizona is a desert, and mosquitoes are not the first thing you think of, but everything needs water, and water leaks are unpredictable, irrigation pipes fail, monsoon weather and rain storms bring water to a thirsty desert, and that tends to draw an assortment of bugs and insects to your backyard along with mosquito issues. To conveniently package all of your outdoor pest control needs into one service, Invader Pest protects your family against mosquitoes, flies, ants, ticks, fleas, and more! With InvaderProof Mosquito Control Service, you and your loved ones will be able to enjoy your property without the discomfort of unwanted insects.
How do I know I can trust you to eliminate the mosquitoes?
The great thing about our InvaderProof Mosquito Control Service is that it attacks mosquitoes at every stage in the life cycle – from egg to adult. This ensures you will be protected from both mature mosquitoes, as well as the threat of their offspring. In the unlikely event your pest problem persists, we will come back to treat your yard – at no additional cost.
Will my children and pets be safe throughout the extermination process?
We have elected to use the safest, greenest products available to defend your yard from mosquitoes. Without sacrificing the effectiveness of our service, we can assure you that your entire family (even the four-legged members) will be safe to explore the yard post-treatment. If you have any additional questions about our procedure, your Quality Pro Invader Pest Management technician will be happy to provide the answers!
Can you service my home this week?
We understand how inconvenient a pest problem can be, especially mosquitoes when you want to enjoy the outdoors, which is why we offer same-day service. If you give us a call before noon, we can go ahead and schedule a free same-day exterior inspection!
Mosquito Control in the Phoenix Area For Over 29 Years
When it comes to mosquito control, why partner with a large corporation when you can partner with your neighbors? Here at Invader Pest Management, we have been proudly serving Greater-Phoenix-Area communities for almost three decades. Throughout the years, we have perfected the art of mosquito control, making us the local experts. Our mosquito treatments are available in many areas throughout Arizona, including:
Apache Junction
Avondale
Buckeye
Carefree
Cave Creek
Chandler
El Mirage
Gilbert
Glendale
Goodyear
Guadalupe
Litchfield Park
Mesa
Paradise Valley
Peoria
Phoenix
Queen Creek
Santan
Santan Valley
Scottsdale
Sun City
Sun City West
Surprise
Tempe
Tolleson
Youngtown
Unbeatable Service Reputation