Emergency Bee Removal
While it may seem regrettable to call an exterminator for swarm or bee hive removal, the fact is that the presence of killer bees could be a matter of life and death, especially if someone you love is allergic. Why take the risk of leaving these bees to further threaten the community and our environment? At Invader Pest Management, customer safety is paramount. We have the tools, training, and skill to safely remove the threat of killer bees for good.
Residential Aggressive Bee ControlPhoenix-Area Bee Removal Service
Not all bees are the same. Some are friendly pollinators that are great for the environment, however, some are dangerous and need to be removed. Here at Invader Pest Management, we offer removal for the dangerous bees that live here in Arizona.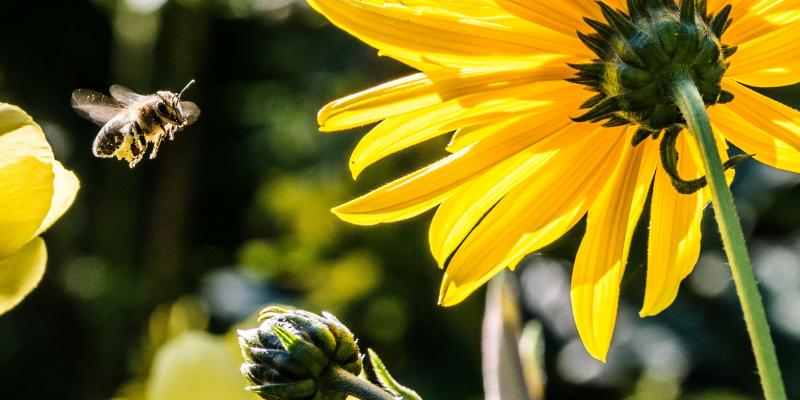 If a swarm of bees shows up in your yard, you may believe the environmentally friendly solution is to have the bees captured and relocated. After all, bees have a reputation as nature's friendly pollinators. Unfortunately, the reality for Arizona residents is different. In Arizona, 99% of our urban bees aren't the honeybees beloved by beekeepers, but the highly dangerous aggressive bees. Far more territorial than their European cousins, killer bees can be deadly, and have been known to chase a human or animal a quarter of a mile. Killer bees also wreak havoc on the environment. Not only do they displace native pollinators, they also invade hives of domestic honeybees. Once inside, the Africanized bees kill the queen and replace her with their own, turning the colony aggressive as she reproduces.
Identifying the Signs of Bees
Bees are resourceful and live in colonies that can consist of a queen and thousands of workers. The queen's job is to lay eggs while the workers' job is to care for the queen, gather food, and raise the brood. Honey is the food source of the hive. Honeycomb takes up a lot of room, and a large colony needs space to thrive. Bees seek out hollow spaces to build their nests, and this means anything from a hollow tree to an unused barbeque grill to the crawl space, walls, or chimney of your home.
Here are some signs that you may have a bee infestation:
Bees flying around your home or yard. If you're seeing a steady presence of bees, the insects may be looking for a place to settle or may have an existing hive close by.
A mass of bees – usually on a tree branch – indicates a swarm. A swarm occurs when the bees leave to find a new home. When the queen bee stops to rest, the other bees will crowd around her, creating a mass of bees that may be the size of a basketball or larger.
Signs of a bee infestation in your home may include the presence of bees as well as dark spots on your walls or ceiling caused by honey seeping through the plaster.
Any of the signs indicate the need for professional bee control. Invader Pest Management knows how to safely remove bees and their hives. And because we know you want a speedy solution to dangerous Africanized killer bees on your property, we offer same-day emergency service, after hours service, and are even available on weekends and holidays!
Bee Control You Can Count On
There's no time to waste when potentially dangerous bees are identified in or around your home. At Invader Pest Management, we care about your safety and our exterminator will arrive at your home ready to handle bee removal at the level it is needed.
Depending the level of your bee problem, this is what you can expect when you partner with us:
Swarm removal – We can usually dispel swarms easily for a minimal price. The exception to this would be if the bees are gathered in a high location, or if after hours or emergency servicing is needed.
Established bee colony removal – This involves locating the hive and exterminating the bees but leaving the honey and comb in place. This is not our first preference, as any honey or comb left behind will likely attract foraging bees that will reinfest.
Complete hive removal – Our complete bee removal service includes exterminating the bees and removing the hive and the honeycomb. This may involve cutting into the wall, ceiling or floor to gain access to the bee infestation, and may require the assistance of a contractor to repair access holes.
Bee Prevention Services
Some areas are more prone to bees than others. If you live near a field or a preserve, swarming bees may be a regular problem. Our exterminators at Invader Pest Management can install and maintain traps to capture and remove threatening bee swarms before they move into your house or other building on your property.
Our Commitment To You
At Invader Pest Management, customer satisfaction is key. Killer bees are here to stay and will likely remain an ongoing hazard to homeowners like you. You can trust us to provide solutions you need.
Same-Day Bee Control In These Phoenix-Area Communities:
Apache Junction
Avondale
Buckeye
Carefree
Cave Creek
Chandler
El Mirage
Gilbert
Glendale
Goodyear
Guadalupe
Litchfield Park
Mesa
Paradise Valley
Peoria
Phoenix
Queen Creek
Santan
Santan Valley
Scottsdale
Sun City
Sun City West
Surprise
Tempe
Tolleson
Youngtown
Unbeatable Service Reputation