RESIDENTIAL SCORPION CONTROL The Best Professional Scorpion Control in Sun City
Are scorpions ruining your peace of mind? Let us help! Here at Invader Pest Management, we've offered professional scorpion control in Sun City and nearby communities for over 29 years. Our scorpion control methods will effectively get rid of these painful invaders. Now, when you sign up with one of our InvaderProof packages, you can save money on the best pest and scorpion defense in Sun City!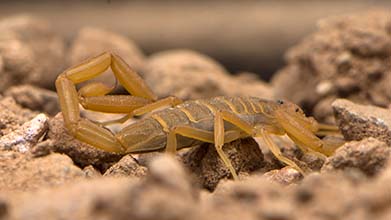 Here in Sun City, we are lucky to live in an area with breathtaking landscapes and incredible National Parks. People travel far and wide to see the beauty that is Arizona. Though we have so many great things about our state, we also have some downfalls – like scorpions.
Scorpions are native to Sun City and there are over 40 different species present here. Scorpions may be small in size, but these venomous arachnids are known for wreaking havoc on your property. They are capable of stinging family members and pets, causing pain – or worse. Though scorpions are a big problem for homeowners, you don't have to worry any longer. Here at Invader Pest Management, we offer effective scorpion control in Sun City that quickly rids your home of dangerous scorpions.
How to Get Rid of Scorpions in Sun City
Every year over 13,000 scorpion stings are reported to the American Association of Poison Control Centers and Sun City gets its fair share of those. Don't be the next statistic – take action against scorpions now. We are proud to offer same-day service in the Sun City-Area so you can get rid of scorpions as soon as possible. If you're ready to stop sharing your home with scorpions, call us at 623-888-8395 before noon. We will send one of our exterminators to your home that same day. That's our promise to you!
Advanced Scorpion Control
At Invader Pest Management, we understand that the safety of your family comes first. That's why we are proud to offer the most advanced scorpion treatments. We always use professional materials that are designed specifically for scorpions. We would never use anything in your home that we wouldn't use in our own. Our high-quality Sun City scorpion control service includes:
A nighttime blacklight inspection 1-2 hours after sunset to search for nocturnal scorpions.
Scorpion identification by one of our expert Phoenix exterminators to determine the species and extent of the threat.
A full-perimeter three-layer barrier around, near, and inside your home to make it less attractive to scorpions.
Scorpion removal with advanced formulations specific to controlling scorpions.
Structural exclusion to keep scorpions out of your home for good.
Unbeatable Service Reputation
We'll Remove, Treat, AND Seal
When you team up with us for scorpion control in Sun City, you can rest assured knowing that you're receiving thorough service. We don't believe in doing a job halfway. Our program puts an emphasis on not only removing the existing scorpion problem but on treating and sealing the structure to prevent the re-entry of the scorpion pests. This process ensures the maximum number of scorpions are found and removed, areas conducive to scorpion activity are reduced, and risk to family and pets is lowered.
Professional Sun City Scorpion Control For Over 29 Years
Here at Invader Pest Management, we're not some giant corporation with locations in every state – we're your neighbors. We are locally owned and operated right here in Arizona. In fact, we have over 29 years of experience with scorpion control in Arizona. Our local expertise has allowed us to gain invaluable insight about scorpions and the best ways to treat them. Our scorpion control is available throughout many areas in Arizona, including:
Apache Junction
Avondale
Buckeye
Carefree
Cave Creek
Chandler
El Mirage
Gilbert
Glendale
Goodyear
Guadalupe
Litchfield Park
Mesa
Paradise Valley
Peoria
Phoenix
Queen Creek
Santan
Santan Valley
Scottsdale
Sun City
Sun City West
Surprise
Tempe
Tolleson
Youngtown