Subterranean Termite Treatment in the Phoenix-Area
At Invader Pest Management, what we do is in our name! When subterranean termites invade your home, we're there to safely and effectively eliminate them! As a family-owned business, we take pride in protecting other families from dangerous termites and treat every client as if they were our own family. The termite exterminators at Invader Pest are specialists when it comes to termite control. In fact, we have been treating termites in commercial and residential locations for over 29 years and know the most efficient means of saving your property from these dangerous pests.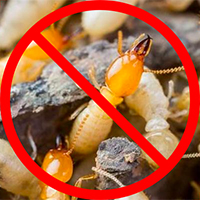 How to Detect Evidence of Subterranean Termites
Everyone knows how dangerous termites can be – they eat away at the structure of your home and can even get in your walls and furniture. They work quietly but fast and reproduce at an alarming rate. Before you know it, thousands of tiny pests are causing extensive, costly damage to your house. But what you might not know are the tell-tale signs that you have a termite infestation. If you want to know if you need termite treatments, here is what to look for:
Peeling paint – this may look like water damage
Tiny holes in drywall
Bucking wood and squeaky floorboards
Wood that sounds hollow if tapped
Windows or doors in wooden frames that are stuck
Chaotic patterns in wooden furniture or floorboards
Mud tubes around the foundation of your house
Piles of wings that look like fish scales
Termite pellets, which look like small piles of salt or pepper
Even after you've checked all around your house for signs of a termite infestation, you may still be unsure if you have a termite problem. The only way to be 100% sure that you don't have termites is to get a professional inspection. We understand that you might be hesitant to call an exterminator if you're not positive there's a problem, and that's why we offer free termite inspections.
The Best Weed Control in Chandler & These Nearby Communities:
Apache Junction
Avondale
Buckeye
Carefree
Cave Creek
Chandler
El Mirage
Gilbert
Glendale
Goodyear
Guadalupe
Litchfield Park
Mesa
Paradise Valley
Peoria
Phoenix
Queen Creek
Santan
Santan Valley
Scottsdale
Sun City
Sun City West
Surprise
Tempe
Tolleson
Youngtown